We are co-creating a Collective Commons with the community of Pinhoe: www.pinhoe.org as part of Exeter Living Lab, within the Global Systems Institute (GSI) at University of Exeter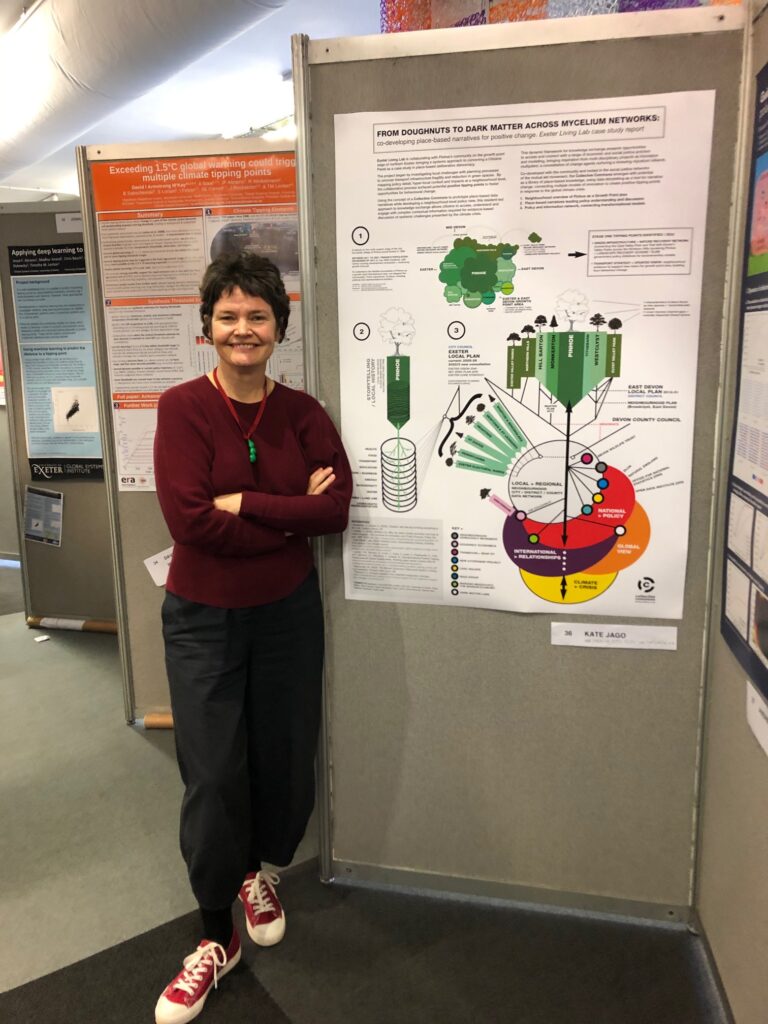 ---
From Doughnuts to Dark Matter across Mycelium Networks: co-developing place-based narratives for positive change
Pinhoe sits on the growth-point edge of Exeter, crossing city, district and county council boundaries. Our project began by investigating local challenges with planning processes, uncovering systemic transport infrastructure fragility and dramatic reduction in green infrastructure.
By mapping policy detail and impacts at a neighbourhood level, the collaborative process surfaced multiple opportunities to influence tipping points and inspire positive change.
Using the concept of a shared information commons to co-articulate place-based narratives while developing a neighbourhood-level policy view, this resident-led approach to knowledge exchange allows citizens to access and engage with specialist cross-discipline information required for evidence-based discussion of systemic challenges presented by the climate crisis.
Our dynamic framework presents opportunities to access and connect with a range of economic and social justice activism and modelling, bringing inspiration from multi-disciplinary projects as innovation multipliers: a constellation of change agents.
Co-developed with the community and rooted in the social justice networks of the mutual aid movement, the Collective Commons emerges as a library of place-based knowledge, using data storytelling as a tool for narrative change, connecting multiple models of innovation to create positive tipping points in response to the global climate crisis
Neighbourhood overview of Pinhoe as a Growth Point area
A suburb on the north eastern edge of the city, the parish village of Pinhoe joined Exeter city in 1966. Following multiple major housing developments between 2011 and 2021, Pinhoe's population increased by 50% to >9000 residents
The Greater Pinhoe area >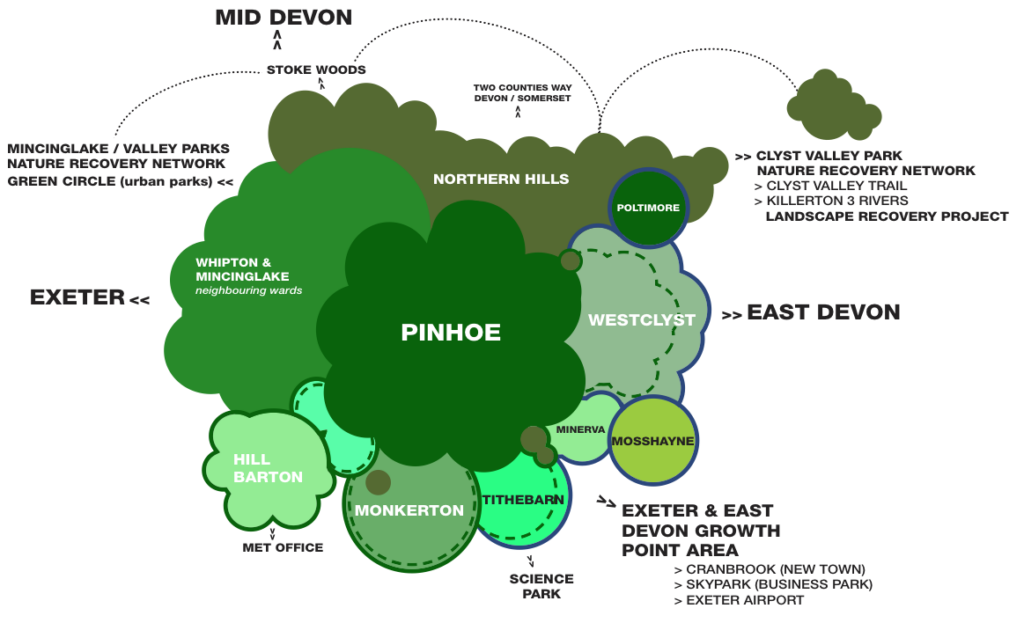 To understand the porous boundaries of Pinhoe as a growth point development area for both Exeter City and East Devon District councils, we mapped the community's lived experience of place which crosses these political and representational borders. We also note the different County Council boundary which incorporate neighbouring wards in Exeter City but not Broadclyst Parish (East Devon). Devon County Council holds budgets and responsibility for Highways infrastructure.
STAGE ONE TIPPING POINTS IDENTIFIED / 2022
• GREEN INFRASTRUCTURE > NATURE RECOVERY NETWORK connecting the Clyst Valley Park and Trail with Exeter's Valley Parks across the Northern Hills bordering Pinhoe / LANDSCAPE RECOVERY SCHEME / ELMS government policy initiatives for landownership models
• TRANSPORT STRATEGY > UPDATED VISION: neighbourhood evidence to support new vision for growth point area, building from behaviour change
Place-based narratives leading policy understanding and discussion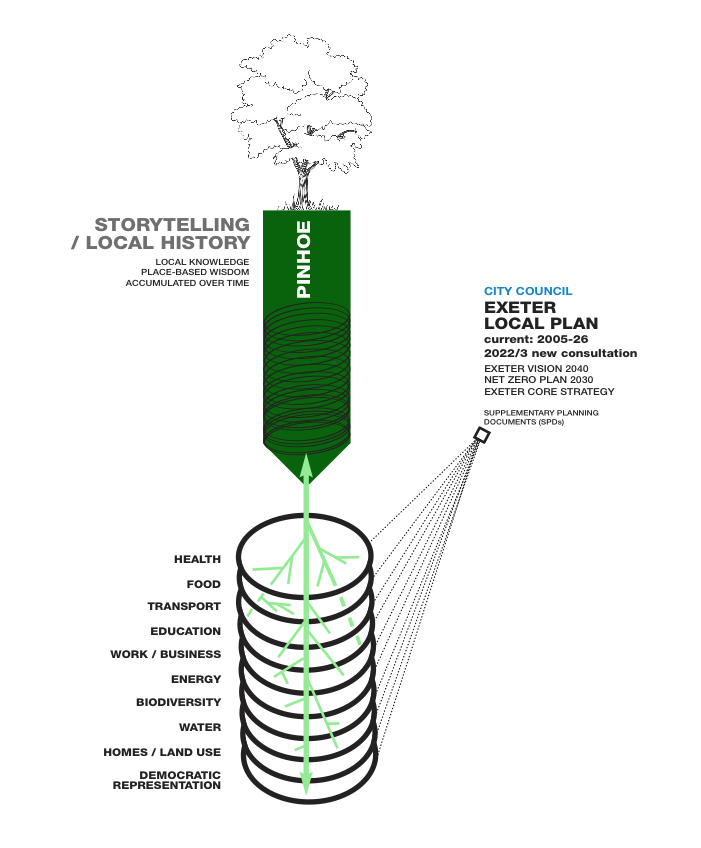 Policy and information network, connecting transformational models
Policy connections across neighbourhoods in Exeter: connecting local development to global climate impacts serves to connect new thinking at both national and international levels. Our drawing showed the following examples: Transition, Doughnut Economics, the Mission Economy, modelling by Dark Matter Labs.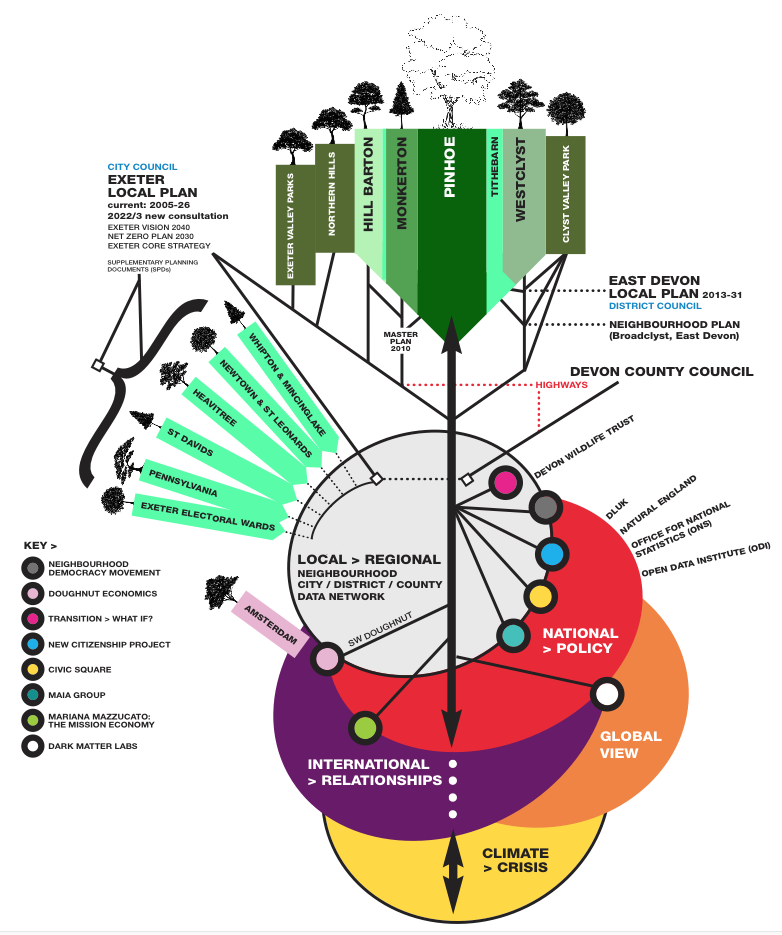 NOTE:
• characteristics of place shown as tree species > using the 'wood wide web' network model
• crown shyness channel-gaps > mutually respected shared spaces across neighbourhoods